[metaslider id="1865″]
Planning for a Shantiniketan Package Tour? Here is what you all need to know about Shantiniketan
Birbhum is one the vibrant districts of Bengal. Villages with small paths over the red soil, Ajay river making its way through the district with beautiful landscapes. Birbhum which houses 5 Sati Peeths is also known for Tantra Sadhanas. Birthplace of legendary monk Bama Khyapa, Kaviguru Rabindranath Tagore's Shantiniketan, famous Tarapith shrine, poet Jayadev's village Kenduli, Dhatrigram and ancient fossil park are the places to visit.
About Shantiniketan :
Located at about 165 km from Kolkata, Shantiniketan embodies Rabindranath Tagore's vision of a place of learning that is unfettered by religious and regional barriers. Established in 1863 with the aim of helping education go beyond the confines of the classroom, Santiniketan grew into the Visva Bharati University in 1921, the open air schools of Shantiniketan created by Tagore and the famous handicraft industries are the most interesting things to explore here.
The tranquil nature and the mesmerizing ambience of the red soil region makes Shantiniketan  the ultimate destination for those who are looking forward to escape from the city hustles and bustles. Bolpur forms itself with Shantiniketan, Sriniketan and Prantik.
Places of Interest :
Khoai Haat : The local market (only on Saturdays) known as Khoai Shonibaar er Haat is located at Sonajhuri. The colourful market is set amidst the forest of Saal trees making it even more attractive. Various handicrafts are exhibited/sold by the locals from nearby villages. Occasionally, we could hear the soulful Baul songs or see the tribals dancing to the beating of drums. It is advisable to visit the place on Saturday afternoon.
Amar Kutir : A co-operative society for the rural development of the surrounding areas. Amar Kutir is a fascinating place. Here we can see the making of famous Shantiniketan handbags. So much labour and precision go into making such designer leather crafts. Also the Batik factory to see the process of colouring and printing batik. It was great to see how a white cloth was finally transformed into a colourful dress material. There is a shop and showroom at Amar Kutir complex where visitors can buy souvenirs.
Srijani Shilpa Gram Complex : It is a huge complex beautifully decorated with replicas of houses of the eastern and northeastern states of India. This complex is developed and maintained by EZCC (Eastern Zonal Cultural Centre) and various cultural programmes and concerts are held here.
Kankalitala Temple : Kankalitala is a temple town in Bolpur subdivision of Birbhum district. This is one of the Shakti Peethas where the waist (or kankal in Bengali) of Parvati fell which is at present the Kankalitala town. It created a depression in the earth which later filled up with water and formed the sacred kund. It is repeatedly told that the actual body part now lies underneath this water. Goddess Parvati is the residing deity of the Kankalitala Temple.
Surul : The main attraction of Surul is the SarkarBari also known as the Surul Rajbari. The history of Surul Sarkar family can be traced back to 300 years. The Sarkar Rajbari was built by Srinivas Sarkar in 1750. The Sarkar Bari is known for their 250 years old Durga Puja celebrations. Beside the Sarkar mansion, there is a temple complex. The temple has some fine terracotta works, though they are all dilapidated now.
Halshe Dangaghat:  Situated on the banks of Ajay river, it sits right in the lap of nature. Taking a detour from the highway and descending down the dusty red soiled path making way through the paddy fields will lead you to the banks of Ajay. The serpentine flow of Ajay, and the golden sunset over the paddy fields will make the landscape memorable to you forever. Spend some leisure time in between nature at Halshe Dangaghat.
Tagore's Ashrama: This is the home of Rabindranath Tagore, and it has been declared a heritage site, preserved by the authorities. Intricate details of Tagore's life are perfectly preserved here. His literary works, his accolades, items of his daily use and other various things. The place also has a pleasant environment. The timelessness and the tranquillity of the place together can make the visitors feel that they actually have travelled back in time.
Time Required : 2-3 hrs               Entry Fee : Museum: INR 40, Students: INR 10 (If valid student ID is shown)
Festivals in Shantiniketan:
1. Poush Mela :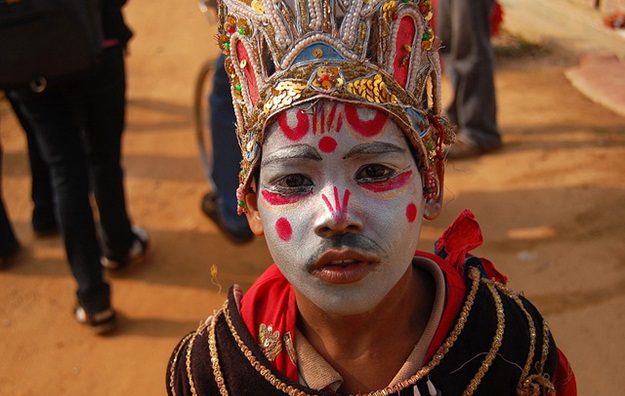 Poush Mela Or Utsav Is An Annual Fair And Festival That Takes Place In Shantiniketan, Marking The Harvest Season. Commencing On The 7th Day Of The Month Of Poush(January), The Fair Officially Lasts For Three Days, Although Vendors May Stay Up Until The Month-End. The Key Characteristic Of This Fair Include Live Performances Of Bengali Folk Music, Notably Baul Music. At Tagore's Behest, The Annual Poush Utsav Became An Important Cultural Event Where Students And Teachers Of His School Took An Active Part. Poush Mela, Therefore, Becomes A Meeting Ground For Urban People And Rural Folk. Rural Artisans Bring Their Wares Like Batik Printed Materials, The Famous Shantiniketan Leather Bags, Earthen Wares, Paintings, Etc, To The Fair. Urban Salesmen Set Up Stalls From Where Rural People Buy Goods Industrially Produced In The Cities.
Background:
Devendranath Tagore With Twenty Followers Accepted The Brahmo Creed From Ram Chandra Vidyabagish On 21 December 1843 (7 Poush 1250 According To The Bengali Calendar). This Was The Basis Of Poush Utsav (The Festival Of Poush) At Shantiniketan
A Brahma Mandir Was Established At Shantiniketan On 21 December 1891 (7 Poush 1298 According To The Bengali Calendar). A Small Fair Was Organized In 1894 In Connection With The Establishment Anniversary Of The Brahma Mandir, In The Ground Opposite The Mandir. What Started As A Small Homely Poush Mela Now Attracts Attention Of Not Only The People Of Birbhum District But Tourists From All Around.
In Earlier Days The Mela (Fair) Was Held In The Ground On The North Side Of Brahma Mandir (Also Referred To As Glass Temple). On That Day, A Firework Display Was Held After Evening Prayers. As The Mela Increased In Size, It Was Shifted To The Field In Purbapalli.
Inauguration:
Poush Utsav Is Inaugurated On 7th Poush (Around 23 December). At Dawn, Shantiniketan Wakes Up To The Soft Music Of Shehnai. The First To Enter The Scenario Is The Vaitalik Group, Who Go Round The Ashrama (Hermitage) Singing Songs. It Is Followed By A Prayer-Meeting At Chhatimtala. Then The Entire Congregation Moves On To Uttarayan Singing Songs.
Other Days:
Poush Mela Is Characterized By The Live Performances Of Bengali Folk Music, Especially The Baul Music. It Includes Folk Songs, Dances And Tribal Sports. This Fair Offers A Perfect Insight Of True Heritage Of The State. The Students Of Shantiniketan Present Their Magnificent Performance And Make This Festival More Enjoyable And Glamorous. Each Day Of This Festival Is Filled With Different Activities. The Last Day Of This Fair Is Devoted To Those Who Are Related To Shantiniketan.
The Fair:
Some 1,500 Stalls Take Part In The Fair. The Number Of Tourists Pouring In For The Three Day Fair Is Around 10,000. Government Statistics Put The Daily Inflow Of Tourists In To Shantiniketan At Around 3,500 Per Day; But During Major Festivals Such As Poush Utsav, Basanta Utsav, Rabindra Paksha, And Naba Barsha It Goes Up To An Average 40,000 Per Day Or More. Shantiniketan Has 85 Lodges With Accommodation For 1,650. Besides This, Rooms Can Be Rented As Well.
Souvenir:
Local Printed Fabrics And Handicrafts Are Available In The Stalls Erected During The Fair.
Accommodation facility at the time of Poush Mela:
Accommodation facilities are made available during the mela days for visitors who come from far away. Shantiniketan has lodges of around 85 in number which can accommodate 1650 individuals within them.
Thus, the Poush Mela becomes a significant attraction regarding the exposition of Bengali traditional culture that it does, and allows the days of its occurrence to explore the heritage world of Shantiniketan from the inside while staying in its lodges.
2. Basanta Utsav :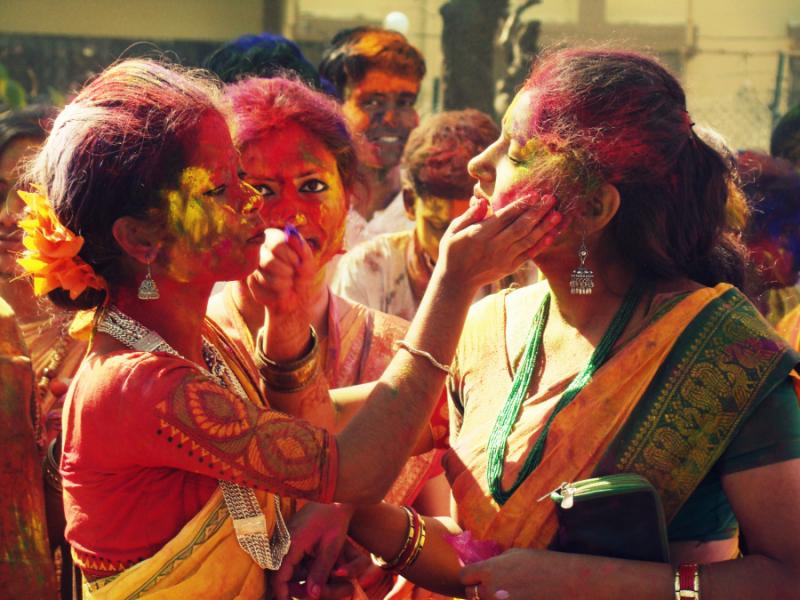 History:
The cultural breeding ground and the pilgrimage for art, culture and dance – Shantiniketan has always attracted the learned from different parts of the world. Meaning "abode of peace" this place was previously known as Bhubandanga, but Maharshi Devendranath Tagore renamed this place as Shantiniketan and also found an Ashram here in 1863. Rabindranath came here in 1873 for the first time.
With the onset of Spring Bishwabharati University at Shantiniketan gears up for the Basanta Utsav (celebration of spring), the annual Bengali festival to celebrate Holi. It was the poetic mind of Nobel-laureate Rabindranath Tagore, who introduced this lovely occasion in very special way.
Celebration:
Women in traditional get up – yellow sari, palash phool and all smiles all come under one roof cultural mix of dance and song in the campus. The entire feel of the place is eclectic as you get to see groups of people singing and dancing to the tunes of Rabindra Sangeet.  The pulsating dramatic vibrations in the campus depicts the truest spirit of the festivity.
The informal feeling in the air welcomes all its ex-students with much warmth. The ingrained beauty of Basanta Utsav lifts up your mood. It is great see the whole enthusiasm with which the students and teachers participate makes you realise that how nicely had Rabindranath Tagore managed to pulsate the beauty of life within each and every soul here, which still has not faded. There is something in the air of the place that 'beauty' gets so naturally blended with much elan.
Significance:
The place has a unique energy to blend all in the same bright colors of the festival carefully nurturing the spirit of Basanta Utsav. All barriers break and people from varied background make this holy land their playground. This cultural extravaganza is a powerful depiction of the cultural heritage of India.
Spring is welcomed whole-heatedly as event the Baul singers entral you with "Baul gaan" (songs traditionally sung by a group of mystic minstrels from Bengal), which happens to be a major attraction here. The thought-provoking songs, sung by the baul singers on their "Ektara" (single string instrument), speak of life and faith and love in a distinct style.
Special Attraction in Shantiniketan:
Khoai Mela
Shonajhurir Haat
Kala Bhavan
Chhattimtala
Ballavpur Wildlife Sanctuary
Traditional Craft in Shantiniketan: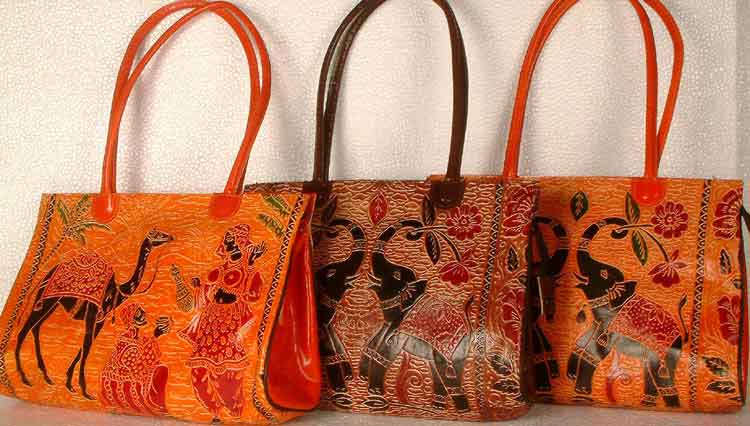 Shantiniketan products are world famous for their appliqué, batik and embossed craft work using touch dying.
The process of burnishing the leather gives it an elegant sheen and brings out the colors.
The major embossing craft is done by hand and is an intricate process.  After the final leather is made, it is then stitched into the desired product, coated with a lacquer finish for making the product shiny and long lasting.  Shantiniketan products are not only beautiful in appearance, but are also very affordable.
Places for best handcrafts in Shantiniketan:
Amar Kutir (আমার কুটির), once a place of refuge for independence movement activists has been turned into a cooperative society for the promotion of arts and crafts.It is located on the banks of the Kopai River, about 15 kilometres from Santiniketan in Birbhum district in the Indian state of West Bengal.
Food options in Shantiniketan:
Shantiniketan is certainly not famous for food. But if you love authentic Bengali cuisine there are a few places (little overpriced) you can visit like Ghore Baire, Panchabanjan, Sonajhuri, etc. Also, you will get the other cuisines like Mughal, Chinese very easily in restaurants like 9X9, Green Chilies, etc. Even typical budget Bengali meals are also available in roadside stalls or food hotels.
Suggested Itineraries for Shantiniketan Tour :
Day 1 :-Starting from Kolkata early morning, having breakfast at Shaktigarh, we will reach Shantiniketan via Panagarh. After having lunch at Goalpara/Kamarpara, we will take a stroll at the Khowai Parer Haat. Situated on the banks of Kopai river, the small market showcasing various local handicrafts and Baul singers singing to their notes makes  it more vibrant. You can also take  some of the handicrafts
Day 2 :- After having breakfast reach Bolpur. Visit the Uttarayan, Bichitra Bhavan, Tagore Museum, Udichi, Rabindra Bhavan, Shyamoli, Udayan and Punascha Complex.  Brahmacharyashram, Shantiniketan Bhavan and Kalabhavan which houses the creations of Rabindranath Tagore, Abanindranath Tagore, Nandalal Basu and Ramkinkar Beij. Besides you can also visit Bishwabharati and Sriniketan. After having lunch on the way we will visit Supur, the kingdom of Surat Raja,Surakeshwar Shiv Temple, Dighir Par, ancient Banyan Tree are the places to visit. Turning left on main road , 2.5kms away we will also visit Jor Deul and Rekhdeul.Then we will visit an off beat location, Halshe Dangaghat, Situated on the banks of Ajay river.While returning enjoy some infamous sweet Kather Jwaler Rasogollas at Bonvilla More. Dinner at homestay.
Day 3 :- After breakfast we will bid adieu to Bolpur and while returning we will travel through the Saal wood forests and visit the newly constructed Wood Fossil Park. Lunch on the way back to Kolkata.
Best time to visit Shantiniketan:
The best time to visit Shantiniketan  is during monsoons and winters, i.e., between July and February. Other than the days when there are heavy rains, the climate remains overcast with light showers, making for a decent time to explore the rich culture of West Bengal. The climate remains comfortably cool throughout the day allowing tourists to explore every aspect of the beautiful abode whether it is set indoors or outdoors. Some may even choose to visit during the transitional season of spring which occurs in March. The weather is warmer compared to the winter season, but pleasant and comfortable. Summertime, between April and June, is not recommended to tourists because of the high-temperature the region experiences, making it the most inconvenient time of the year.
Monthly Weather in Shantiniketan:
| Month | High/Low (°C) | Rain |
| --- | --- | --- |
| January | 25°/ 13° | 2 days |
| February | 28°/ 14° | 0 days |
| March | 33°/ 19° | 6 days |
| April | 36°/ 21° | 13 days |
| May | 39°/ 25° | 7 days |
| June | 36°/ 26° | 21 days |
| July | 34°/ 25° | 26 days |
| August | 32°/ 25° | 25 days |
| September | 31°/ 24° | 25 days |
| October | 30°/ 21° | 11 days |
| November | 30°/ 18° | 0 days |
| December | 26°/ 13° | 2 days |
How to reach Shantiniketan by flight:
Shantiniketan is not equipped with its own airport. If you plan to fly to West Bengal, then Kolkata is the nearest airport from Shantiniketan. Cabs are easily available to drive you to Santiniketan, but the drive is a good 200 km and 3 hours long.
Nearest Airport: Netaji Subhash Chandra Bose International Airport (CCU) – 139 kms from Shantiniketan
Tentative return flight prices to Netaji Subhash Chandra Bose International Airport (CCU) from major cities in India.
How to reach Shantiniketan by road:
Travelling by road is another comfortable option. Shantiniketan is well connected by roads. Buses from major surrounding areas like Kolkata, Guwahati and Durgapur are available at nominal prices. Taxis and buses take you to Shantiniketan from nearby areas at affordable prices. You also have the option to drive on your own.
How to reach Shantiniketan by train:
The most convenient way to reach Santiniketan is by train. The nearest station is Bolpur Station which is hardly 2-3 km away. You can easily hire a bus or a cab to drive you to your accommodation's location.
Local transport in Shantiniketan:
Commuting in the city is mainly done with tourist cars and cycle rickshaws. Many of them are pre-arranged for by the guest house you choose to stay in. However, the best way to explore this beautiful, sleepy town is on foot. You can also hire bikes and cycles for yourself from one of the numerous suppliers in the region for under 2,000 for 2-3 days.
Shantiniketan Tourist Map :